Dental implants are an extremely advanced method of replacing a tooth, and work by replacing the tooth with a titanium screw, capped with a crown. This means that the implant itself will be completely invisible, and the only thing that will be visible is the crown on top. If you are looking for advanced dental implant technology in Marylebone for your dental implant treatment, then David Madruga, at our practice in Marylebone, will have what you are looking for. Dental implants are an extremely complicated procedure, so it is important that only the best technology is used for them. Dr David Madruga has your best interests at heart, so he will make sure that you are receiving his full attention and care with some of the best technology in London.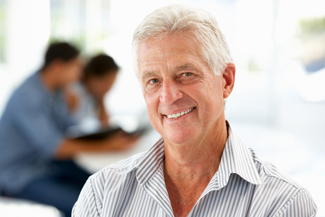 Can everyone get dental implants?
Not everyone can get dental implants. This is because there are certain requirements that you must meet in order to be eligible for the implants. Firstly, you must have enough jawbone for the implant to stay secure. Secondly, the implant must not encroach any other part of the body, such as the sinus cavity ,as this would cause it to be unstable in the jawbone, causing the treatment to not work properly. We will do a full assessment of your individual case when you visit us so that we can best advise you on an appropriate treatment for you.
Dental implant consultation
You do not need to worry about whether you are eligible for implants or not until you have had a consultation with our dentist. Only after a consultation will you be able to truly know whether you are eligible or not. This will mainly involve x-rays of your jaw, which will be able to determine whether the implant will fit in the specific area.
It will also be a chance to get to know our dentist, Dr David Madruga, and to ask about anything that you may be concerned about. There are many things that you need to know about getting dental implants, so it is important that, together, we properly address all your options. However, dental implants are a fantastic option, and using some of the most advanced dental implant technology in Marylebone, we can supply you with some extremely high-class treatment.
If I am ineligible is there anything that can be done?
There are some treatments that are available if you are considered ineligible. For example, if you have insufficient jawbone, then you can receive bone grafts. Bone grafts will be small pieces of bone inserted into the jawbone in order to graft with the existing bone and create more of a foundation for the implant. They will often be taken from the chin or hip, or can even be an animal or synthetic variant. In terms of a sinus cavity breach, a simple sinus lift operation can be carried out, where the sinus cavity is raised slightly, and the gap is supported with a filler material for the implant to sit in.
If you are interested in receiving dental implants from David Madruga, then do not hesitate to contact us. We have some of the most advanced dental implant technology in Marylebone, which means that your treatment will be both modern and professional.