Dental Implants are an excellent way for your dentist to replace one or more of your natural teeth. At Dr David Madruga Gonzalez's Marylebone dental practice, we can use implants to restore not just the aesthetic appearance of your smile, but also full functionality to your jaw, enabling you to eat whatever you like and to speak, smile, and laugh with confidence.
How implant treatment works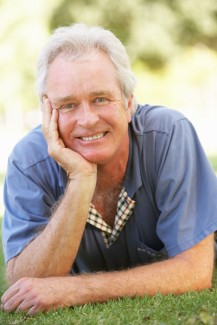 Our teeth are made up of two parts – crowns and roots. Traditional dentures and bridges replace only the crown portion of a tooth, but dental implants are different. They are bionic tooth roots, placed straight into your jaw bone in a small surgical procedure, which is carried out here at our Marylebone clinic. New teeth – either crowns, bridges, or dentures – are then attached to abutments on top of your implants, producing a result that is as functional as it is natural-looking.
If you need to replace just a single tooth, we will usually place one implant and one crown. The good news for people with multiple or even all missing teeth is that you should not need as many dental implants as new teeth. In most cases one implant can support several new teeth; precision placement and meticulous planning mean that the minimal number of dental implants can be used to support a full arch of false teeth, able to withstand the forces generated by biting and chewing food.
Dr Madruga Gonzalez has successfully treated scores of implant patients over the course of many years at his Marylebone dental practice. He leads a team of dental professionals who will provide you with personalised treatment designed to suit your needs.
Thanks to Dr Madruga Gonzalez's extensive experience and many years of research, we are able to treat even complex cases requiring guided bone regeneration here at our Marylebone practice.