The repercussions of missing teeth can go beyond your personal appearance. You may not feel comfortable when speaking or eating, and you might even be conscious when smiling or laughing in public. The spaces in your mouth where teeth are missing are not just embarrassing, but they also hinder you from enjoying a healthy diet.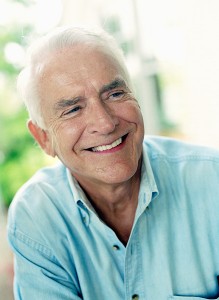 The consequences of missing teeth worsen, however, if you have lost all of them. The problem extends beyond having a toothless jaw; facial collapse is likely to happen, as the entire jaw shrinks and thins. The loss of bone will also lead to exposure of vital structures such as nerves.
Fortunately, dentures and dental implants can help. Both can replace all your missing teeth and help you eat comfortably and smile and speak with confidence again. These teeth replacement options, however, differ in comfort and reliability.
The Problem with Dentures
While dentures can replace all lost teeth, they need to be removed and cleaned to avoid infections or diseases. There is always the risk of dentures slipping or falling out, and eventually cracking and breaking. Ill-fitting dentures can be uncomfortable; they may also cause chewing and speaking difficulties.
Like the Real Thing
Dental implants can solve these issues, as they look and function like natural teeth. They are also more comfortable and stable than dentures, helping you retain a natural biting and chewing capacity. As the implants will replace some of the tooth roots, they can preserve your bone better. This is not possible with conventional dentures because the bone that surrounds the tooth root will begin to deteriorate.
The Edge of Implants
The best thing about implants is that they integrate with your jawbone, which helps keep the bone intact and healthy. They are also more appealing and easier to clean and maintain. The loss of bone associated with conventional dentures, however, may lead to recession of jawbones. The dentures will also make it difficult for you to eat certain foods.
If you want a replacement solution that looks and feels like a natural part of your mouth, consider dental implants. With an artificial tooth root, you don't need to remove to clean it or worry that it might slip when you talk or laugh. The jawbone fuses with the implant to offer a secure and stable platform for the tooth. Browse through our website today and find out how we can help you smile and speak with confidence again.