Full mouth rehabilitation involves using dental implants to replace all of your natural teeth. You may have lost all of your natural teeth due to tooth decay, gum disease or infection, or you may have been told that your teeth need to be extracted.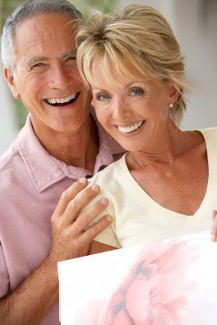 While once a full arch of dentures was the only solution, dental implants now offer an increasingly popular alternative. Implants have several benefits in such circumstances: they offer a solution that is predictable, safe and – with proper aftercare – long-lasting.
If you have been wearing traditional dentures for any period of time, you will be well aware that while they are beneficial, they come with their own set of issues. Imagine a life free of pastes, adhesives and laborious cleaning routines, a life where you can enjoy all of your favourite foods and laugh or smile with confidence, without fearing your dentures will slip. Full mouth rehabilitation with dental implants is making this life a reality for increasing numbers of patients.
Advances in dental technology and materials means that we can now help more patients than ever to restore their smile, using fixed implant-supported restorations.
If you are interested in full mouth rehabilitation, the first step is to book a consultation with Dr Madruga, a highly experienced implant practitioner.
Every patient's needs will be slightly different, so after your initial assessment, a great deal of personalised planning is involved. This may include using CT scans and, if bone has been lost, additional procedures such as bone augmentation or sinus lifts to give your implants the best chance of success.
Implants are then placed in the jawbone in a minor surgical procedure, carried out here at the practice under local anaesthetic or sedation. You may be given provisional restorations, such as temporary bridges or dentures, to allow your implants to fully integrate with the bone. This ensures a stable base for your permanent restorations.
After a healing period of a few months, your final restorations will be placed. You will walk out of the practice with a brand new smile that you'll want to show off, and will be given detailed aftercare instructions. With good oral hygiene, your implants will last you many years – perhaps even a lifetime.