If you have lost several teeth, it is now possible to go from missing teeth to having a fully functional and aesthetically pleasing smile in just one visit to the dentist. If you want to replace your missing teeth without having to wait for months, as it is typical with traditional dental implants, then Same Day Teeth at David Madruga in Marylebone may be the right treatment option for you. Same Day Teeth is an innovative procedure providing patients with fully functional teeth in a few hours.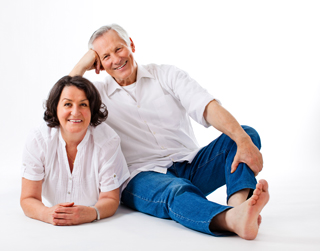 Why choose dental implants?
When a tooth falls out, from crown to root, the section of the jaw that supported the tooth has no real purpose and gradually starts to deteriorate. If not replaced, missing teeth increase the pressure on the remaining teeth leading to gaps between teeth, tooth movement and decay.
Unlike other tooth restoration options that merely sit on the gums without interacting with the jawbone, dental implants fuse to the jawbone and prevent its deterioration. These small titanium screw-shaped posts are surgically inserted into the jawbone and replace the root of a missing natural tooth. Your dentist will place the implant (or implants) in the bone of the upper or the lower jaw and leave it to serve as a steady foundation for the replacement teeth, whether there are crowns, bridges or dentures.
Same Day Teeth
Traditional dental implants are very effective but often require many appointments (lasting from several weeks to a few months), before the replacement teeth are fitted. Same Day Teeth, on the other hand, are much quicker since they require a single appointment for replacing the full upper or lower set of teeth. This is because Same Day Teeth do not require as many dental implants – depending on the quantity and the quality of the jawbone, your dentist will use from 4-6. These implants are also smaller in size than regular implants and can be angled in a particular way to ensure that biting and chewing forces and evenly distributed in your mouth. Once in place, your dentist will secure a customised denture on top of them, which will stay in place. This way, you needn't worry about problems such as slippage.