Dental implants are an increasingly popular way to replace missing teeth. If you have lost one or more teeth through accident, injury or decay, you may be considering dental implants. If so, the first step on your implant journey is to book a consultation with Dr David Madruga Gonzalez, a highly experienced and fully qualified implant dentist.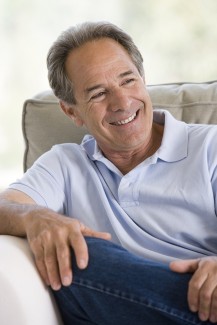 At our practice we offer two options for initial consultation: you can come here to the clinic, or can start with an e-consultation. Please visit our Your Consultation page for full details.
What is a dental implant?
A dental implant is a bionic tooth root, made from titanium. The implant is placed in the jawbone, where it acts much like a natural tooth root, providing strong and sturdy support for replacement teeth – either crowns, secured dentures or bridges.
My dentist says I'm not suitable for implants – can you help me?
If your teeth have been missing for some time – perhaps you've been struggling with unsecured dentures – you may have suffered some bone loss. This is a common consequence of losing teeth. For many patients it is still possible to have dental implants, you may just need a bone graft to rebuild lost bone first. Dr Madruga will assess the state of your bone and if necessary will recommend a bone graft.
What happens next?
If we find you need bone augmentation, this will be the next step on your journey. Sometimes implants can be placed at the same time, other times a healing period is required – this will vary from case to case. When you are ready for implants we will:
Treat any underlying conditions such as gum disease to increase the chances of implant success.
Place your implants in a minor surgical procedure. This is carried out under local anaesthetic or sedation, depending on your needs.
The next step will depend on the type of implants you have. Same Day Teeth involves a fixed provisional bridge being attached at the same appointment, while regular implants involve a healing period of a few months, after which crowns, bridges or dentures are attached.
Dr Madruga will find the best solution for your needs. If you are interested in dental implant treatment, why not book a consultation today to take the first step towards your new smile?