At our clinic in Marylebone we are passionate about delivering high quality dental treatments, as well as ensuring our patients feel at ease. At our dental clinic we offer our patients a variety of dental treatments, including an array of restorative dentistry (including dental implants) as well as cosmetic dentistry (such as veneers, and tooth whitening). Many individuals visiting our dental clinic may not be aware of the importance of replacing missing teeth in the mouth, although it can make a huge difference for many individuals. Having missing teeth within the mouth can cause a number of problems including diminished self-confidence, due to imperfections in the form of gaps, as well as difficulty in producing words, just to name a few.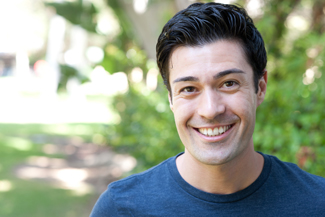 What are the benefits for patients who replace missing teeth in Marylebone?
Patients who do not replace one, or several missing teeth within the mouth may suffer from an asymmetrical look to the face, which can be resolved by offering a stabilising implant base complete with artificial tooth. One key benefit is the aesthetic improvement for our patients, who will receive a customised porcelain crown, which blends in perfectly with other natural teeth in the mouth. Patients who undergo dental implants can also resolve the difficulty experienced whilst eating and partaking in other dental tasks such as brushing, and will regain their dental strength.
How do dental implants work, and are they the right solution to replace missing teeth in Marylebone?
Dental implants are an excellent form of restorative dentistry, and are extremely popular at our dental clinic in Marylebone, in order to replace missing teeth in Marylebone. Dental implants work by the use of three components, the first of which is the base. The bases of our dental implants are small titanium screws which are inserted into the jaw to create a proxy tooth root. The abutment, also commonly referred to as the 'connector', aims to link both the base and the crown together. The final aspect of our dental implants, which could be argued as the most important, is the porcelain crown. The porcelain crowns are made to be cosmetically pleasing, and are matched to the shape and shade of surrounding teeth in the patient's mouth.
Can I receive dental implants on the same day to replace missing teeth in Marylebone?
Yes! We understand that some of our patients may require restorative dentistry on the same day (they may have an important work or social event), therefore we can provide our patients with this. Dental implants are typically administered over several weeks, or even months; however patients can leave our clinic the same day with a full set of porcelain crowns, supported by our implants.
Nervous patients visiting our clinic in Marylebone
Patients may experience anxiety about visiting the dentist due to negative childhood experiences, this may be an irrational fear also commonly referred to as a dental phobia. At our clinic in Marylebone, we understand that our nervous patients may require extra reassurance, which is why we attempt to treat them with extra care and consideration.
Do you offer sedation for nervous patients?
Yes! Many dental clinics may offer a wide variety of sedation methods, we personally offer a conscious sedation method that allows our patients to receive dental treatments stress free.