Life moves at quite a pace these days. Once you make the decision to do something, it's possible to follow it up and achieve it quickly with the abundant resources in the world. Why should tooth replacement be any different? Under the right circumstances, it doesn't need to be. At David Madruga, we can offer a same-day teeth service to many of our patients.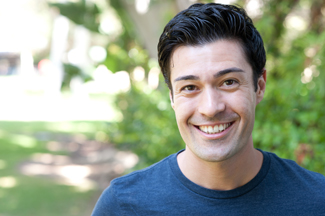 The process of getting dental implants usually involves a consultation followed by any preparatory work. Next comes the fitting of the implants and teeth are added later. In the meantime, someone often has to do without teeth or they have cosmetic stand-ins only. With same-day teeth, prosthetics can be added straight away, which eliminates the need for a second appointment to fit them. This creates a very satisfying, immediately beneficial dental treatment.
How are teeth added to dental implants?
There are three forms that prosthetic teeth come in when they are added to dental implants:
Crown – this is for single tooth replacement. It may be that you only need one tooth replaced or you may have one tooth that is not adjacent to any others. A crown can be used in either of these cases;
Bridge – where two or more teeth that are next to each other are missing, a bridge can be used to replace them without the need for a dental implant per tooth. A single dental implant, with the right anchorage, can support multiple teeth;
Denture – a denture is usually used to replace an entire arch. It can be supported on about four implants, but the exact number depends on the circumstances and environment.
When you have dental implants with David Madruga, we discuss all of these options with you and talk to you about eligibility for same-day teeth. We adapt standard treatment procedures to suit your circumstances so that you end up with a uniquely tailored treatment plan that takes advantage of as many modern and efficient techniques as possible. We know that the easier and quicker your dental treatment is, the more likely you are to go ahead with it. Quicker treatment also means less disruption to your life so that you can enjoy only the positive benefits of your treatment.