If you have suffered from tooth loss, you can take comfort from knowing that dentistry today offers a modern and reliable solution for the replacement of missing teeth. Taking advantage of the latest advances in dental materials and technology, dentist David Madruga in Marylebone offers one of the most effective and long lasting treatments for tooth loss: dental implants. David applies his years of experience using a variety of dental implant systems to successfully restore his patients' smiles.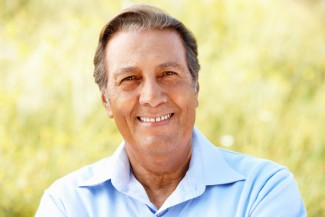 Your journey to a healthy smile
The replacement of missing teeth in Marylebone can seem a daunting prospect. However with the care and guidance of dentist David Madruga, you can rest assured that your treatment journey will be safe and effective with the minimum of discomfort. At your initial consultation you will receive a thorough examination of your teeth, gums and mouth. You will then have the chance to discuss your needs and concerns before a personalised treatment plan is put together.
Dental implants can be used to treat a variety of tooth loss scenarios; from a single tooth knocked out through injury to a whole mouthful of teeth removed due to poor dental health. They can even be used to stabilise loose dentures.
Made from lightweight titanium, dental implants act as artificial tooth roots that sit in your jawbone. Here they encourage local bone growth, which firmly locks them in position. This means once your custom-made replacement teeth are attached on top, you won't ever need to worry about them slipping out of place. Even tough and chewy foods won't be a problem.
The implant procedure itself is carried out under local anaesthetic so you will experience minimal discomfort – less so than having a filling because there are less nerve endings in the jawbone than in the teeth. At his Marylebone practice, David also uses PRGF biotechnology to help speed along your recovery. This can shorten the total treatment time for the replacement of missing teeth.
Long-term benefits
Dental implants prevent shrinking of the jawbone and gums, which commonly occurs following tooth loss. Avoiding these consequences means you needn't worry about your facial structure suffering as a result of tooth loss. Dental implants therefore provide both stability and longevity when it comes to the replacement of missing teeth.
Take the first step towards a healthier smile by getting in touch with David Madruga today.