The first step if you are considering dental implants is to book a consultation with Dr David Madruga. We offer two types of initial consultation, an e-consultation and a consultation in the practice. Please visit the Your Consultation page for full details.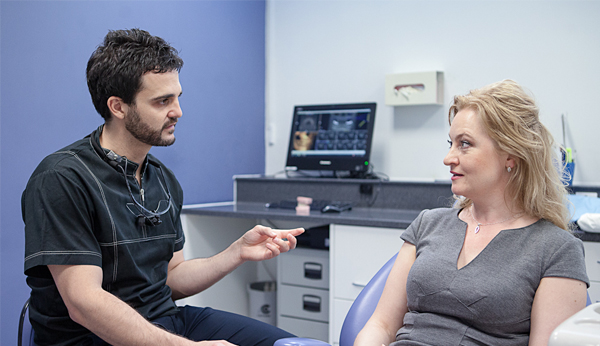 Even if you have been told by another dentist that you are not suitable for dental implants, it is worth booking a consultation with Dr Madruga. He and his team are highly qualified and experienced in placing implants, including complex cases where additional treatments such as bone augmentation may be needed.
If you do need bone augmentation this will be the next step of your journey before implants are placed, although sometimes implant placement and bone augmentation can be performed at the same time. Any underlying problems, such as gum disease or decay in remaining teeth, will also need to be treated first. This will increase the time of treatment, but will also increase the chances of successful implant treatment.
The next step is to have your implants placed, which is usually carried out under local anesthetic and should not cause any pain. If you are dental phobic, very nervous or having complex treatment, this can be done using conscious sedation, meaning you will be awake but will not be aware of your treatment. You will need to bring someone with you to get you home safely if you have sedation but more information can be provided at your consultation visit.
The next step will depend on the type of implants you have fitted. With Same Day Teeth, a fixed provisional replacement bridge will be fitted in the same appointment. With standard implants, you will have to wait an average of three months while the implant integrates with the bone. After this time, again under local anesthetic, we will expose your implant and take impressions, so that your crown, bridge or permanent denture can be made to fit perfectly.