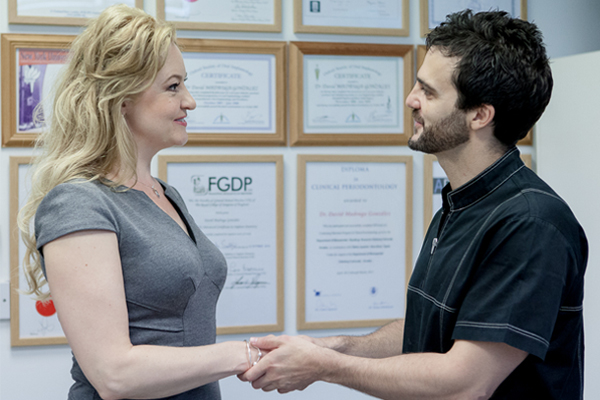 For a full consultation, you will need to visit the practice. The consultation should last about 45 minutes, during which time Dr David Madruga will thoroughly examine your teeth, gums and surrounding structures, will take photographs and radiographs as necessary and will discuss your concerns about your smile and what you want to achieve. Using scans, models and wax-ups, he will then recommend the best ways to get the smile you want, and will provide you with a treatment plan including projected costs and timescales.
The cost of your initial consultation including full examination, radiographs and initial treatment planning is 95 pounds.
To book your consultation, please get in touch with the practice today. For an initial e-consultation, please complete our online form or email us with your photographs and questions.
Request a Call Back
Share Your Smile
Get your free Cosmetic Dentistry Consultation today! Book in with David Madruga or send your photo for an online evaluation
Get the Live Consultation
Want to meet your treatment coordinator?
Want to get a personal treatment plan?
Happy to travel to our practice?
Want to get started straight away?

Book in for a face-to-face Consultation with David Madruga now!
Get The E-Consultation
Nervous about coming in to see us?
Don't want to travel just yet?
Considering your options?
Short on time?


Send us your photo today! Upload your file below