Losing one or more teeth can be a major source of embarrassment. Particularly if teeth are lost from the front of the mouth, you may find you become shy about showing off your smile, covering your mouth with your hands. But tooth loss causes more than these distressing aesthetic issues. If you lose one or more teeth, surrounding teeth may move into the gap, becoming crooked and more difficult to clean properly. Over time, the bone beneath the missing teeth will start to resorb (degenerate), which can lead to your face having a sunken and aged appearance.
Some of options available to you if you have one or more missing teeth might include:
Leave the gap - The opposing teeth are likely to over-­erupt and may eventually be lost. Also your masticatory function may be impaired and this is likely to be the case.

A partial denture – This is a removable device and can be designed so that it has a minimal contact with your gums. However, this is a very unreliable option and frequently you may require the use of dental adhesives or several repairs/adjustments as the bone and the gum will continue to shrink where the teeth are missing. Most patients report food trap and cleaning difficulties with dentures which may promote tooth decay or gum disease. In addition, this is also not ideal if you wish to have a fixed (non removable) dental prostheses.

Adhesive Bridges - This is often considered a provisional fixed solution and frequently used during the healing phase of dental implants. This type of bridge includes minimum or no preparation at all at the back of the adjacent teeth to the gap. Two small metal wings bonded at the back of the teeth help to support the bridge. Unfortunately, it is not considered a long-­‐term option as they do have a tendency to become loose.

A conventional bridge - this would require the grinding down of two adjacent teeth. It can be considered as destructive to the adjacent teeth and in the long-­‐term could lead to other future problems as the bone continues to shrink underneath the bridge, including food trap, decay and gum disease. In most cases, this option is not recommended in order to avoid irreversible damage to healthy sound teeth.

Dental implants– this mode of treatment helps preserve the bone and treats the area of the missing tooth without involving the adjacent teeth. Only dental implants are capable of maintain bone and gum levels and perform similarly to natural teeth. This is overall the most predictable and long lasting option currently. Dental implants help to obtain strong, natural looking permanent teeth.
What is a dental implant?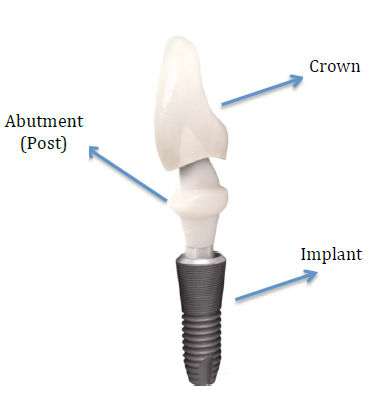 Dental implants are small, titanium screws placed into the jawbone to support a replacement tooth in the form of a crown, bridge or secured denture. They are usually made of titanium, used in the medical field for decades due to its great biocompatibility. Titanium implants fuse to the existing bone allowing a permanent solution to tooth loss.
After a minimum healing process of a few weeks, the implants become integrated ("fused") to natural bone. This process is known as osseointegration. Once implants are integrated, posts can be connected to the implant and restored by means of single crowns, bridges or more complex full mouth prosthetic rehabilitations.
Who can have dental implants?

Most patients with missing teeth can have dental implants. If you have suffered bone loss, you may need additional treatment such as bone augmentation or grafting first. Dr Madruga is experienced in complex implants and will discuss your individual circumstances. Smoking can increase the chance of dental implants failing. If you have gum disease or other dental health problems, these must be addressed before you have your implants.
What are the advantages of dental implants?
Dental implants act like natural tooth roots. They are a permanent solution to missing teeth and offer many advantages when compared with traditional solutions such as dentures or conventional bridges. The overall aim of dental implants is to restore function and aesthetics, but also comfort and health, improving the quality of life of patients:
Functional advantages – Dental implants significantly increase the ability to eat food that was not longer possible after suffering from tooth loss. Unlike other solutions such as unsecured dentures, there is no danger of your replacement teeth slipping. Dental implants can also help to improve the ability to taste food as well as overcome some speech difficulties.
Aesthetic advantages – The use of high quality restorations with dental implants help to achieve incredible aesthetic results. Implant supported crowns look and feel like natural teeth. Having the ability to restore patient's full smiles improves their quality of life, restoring their confidence towards dental treatment and ultimately their self-esteem.
Comfort – Most patients that return for regular follow up appointments report how implants feel incredibly comfortable, like having their teeth back in the jaw. In fact, some patients cannot longer differentiate the implant from an existing natural tooth after a while.
Health related advantages- The ability to restore failing teeth or inadequate teeth replacements such as ill-fitting dentures by means of using dental implants helps to improve the overall state of the mouth, reducing the chance of pain or infection and aiming for a better oral health. In addition, implants can have a valuable nutritional benefit, as patients can eat food that was not longer possible such as fruit or vegetables.
Are dental implants safe?
Dental implants have been used successfully for over 35 years in the field of Dentistry and are considered very safe. Their design and features have evolved dramatically over the last years making dental implants a safe, long lasting predictable option.
All surgical procedures carry a small risk, and the pros and cons of treatment will be discussed at your implant consultation, but with adequate care and planning most likely risks and complications can be avoided.
Dr David Madruga is a highly qualified dental implant surgeon and you will be in very experienced hands.
What implant systems do you use?
David Madruga is trained in the use of multiple dental implant systems. In his opinion, there are certain systems that work better for a particular indication than others and this decision is made after adequate planning of every particular case. All implants brands used by Dr Madruga are known by its quality and high success rates. Some of the implant systems frequently used by him include Astra-Dentsply, Ankylos-Dentsply, Megagen, BTI, Biohorizons and Nobel Biocare amongst others.